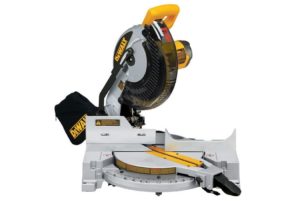 This compound miter saw is compact and lightweight, yet powerful enough for a wide range of jobs. A good budget saw.
The DeWalt DW713 10 Inch Compound Miter Saw – A Solid Performer
There are miter saws, and then there are dual bevel sliding compound miter saws with built-in lasers and sliding extensions. But what if you're looking for something in between? If you're trying to find a miter saw that has at least the bare minimum for any combination of angular cuts, with a thrifty but comfortable design at an affordable price, the DeWalt DW713 10-Inch Compound Miter Saw ought to be on your list. It's a single bevel compound saw with a miter and bevel range capable of making any cut you'll ever need, a wide 6″ cutting length, tall fences to accommodate up to 4 1/2″ crown, and without a slide that, while convenient, adds a lot of bulk and cost.
Perfect for most projects and budgets
The DeWalt DW713 is right in the middle of the field as far as price and functionality goes, but when you pair that with the precision and durability of DeWalt, you get what you pay for and more. It's not a 12″ or sliding miter saw, but it's so clean and accurate that you can finish a wider piece with two cuts and a flip in between. It's not a dual bevel saw, but for the price of a little imagination (and a good angle chart) you can save a ton of money. This saw is also so powerful that you can switch out the blade and use it to cut metal sheeting and pipe.
10″ blade for power/rpms balance
Tall fences and machined fence support for maximum capacity
Good combination of positive stops and range
Portability and utility
15 amps + 10″ blade = versatility
The laws of physics are such that the higher rpms you achieve at a certain amount of energy, the less torque you'll get. Since higher rpms mean cleaner cuts, but more torque means tougher materials, it can be tricky finding a miter saw that gives you a good balance. With its 15-amp motor, the DeWalt DW713 can churn out 5,000 rpms for beautifully crisp cuts. Additionally, when you're working with other stuff besides lumber, the 10″ blade focuses all that power into the cut. Change out the blades and use your miter saw for vinyl siding, PVC pipe, aluminum sheeting, and steel tubing – no problem.
Tall, accurate fences
The DeWalt DW713 has fences that will accommodate crown up to 4 1/2″ nested and 5 1/4″ flat. You'll get a little extra room with flat lumber, up to 6″ on baseboard and beams. The bottom of the fence is machined with the base of the saw, so there's absolutely no possibility of a wiggly fence nudging your work out of place. However, the top of the fence slides right out of the way when you're making a bevel cut.
Degree and stop range for (almost) any use
The DeWalt DW713 has a miter range from 50 degrees left to 50 degrees right to handle any angular cut you could ever need. There are 11 positive stops: at 0, and at 10, 15, 22.5, 31.6 (for crown), and 45 to the left and right. As a single bevel compound miter saw, it doesn't have the widest bevel range of all models, but with a range from 3 degrees right to 48 degrees left, it's still capable of handling any cut you need. There are positive bevel stops at 0 and 45 degrees, but here's one place where DeWalt dropped the ball: although they have a positive stop at the crown miter, they don't have one at the crown bevel (33.9). Also, the bevel adjustment isn't located in the front, so you'll have to do some reaching around. But all in all, at this price, it's hard to complain.
Use it anywhere
At only 35 pounds with a built-in carry handle, the DeWalt DW713 was designed to be carried around to wherever your projects happen to be. The table's not bad, about a foot and a half wide, and the dust collection unit works great until it's full. As a result, this saw can be used in the home as well as the shop, or taken to the job site with ease. Although it's not nearly as light as the Hitachi C10FCE2, it has more functionality and does a better job as an all-around miter saw.
Customer reviews and recommendations
The DeWalt DS713 has proven to be a stellar miter saw with virtually no complaints reported by customers and no recurring defects or design flaws. It consistently earns 4.5 and 5 out of 5 stars around the internet on various sites. Customers have great things to say about it:
"DeWalt gets high ratings for its industrial quality tools and this is no exception. At 35 pounds it is built solid enough to be taken from job site to job site and still maintain the accuracy your require from a miter saw."
"It is really just a well built tool and the accuracy is right on. I was really impressed with how well the dust collection worked."
"The powerful motor has time and time again powered through lumber and been gentle enough for detailed trim work."
"I am extremely pleased with the performance and features of this top quality tool. I use the saw frequently for finish trim work, sawing PVC for plumbing, and general framing."
"It is excellently engineered and very high quality. It has more than enough power for my needs. Even the feel of it provides an impression of quality (the plastic isn't cheap feeling if that makes sense)."
Many customers recommend getting the and the highly-rated to create the perfect workstation for this saw. The laser guide, however, isn't recommended or really even necessary. One small problem is that this saw doesn't come with its own clamp. You can use your own clamps, of course, but sometimes they can get in the way, so you might have to fiddle around with them quite a bit or just get new clamps.
How to get one
The DeWalt DS713 is a high-quality saw, but since it's not dual bevel or sliding you can find it at a great price. Amazon offers FREE SHIPPING.