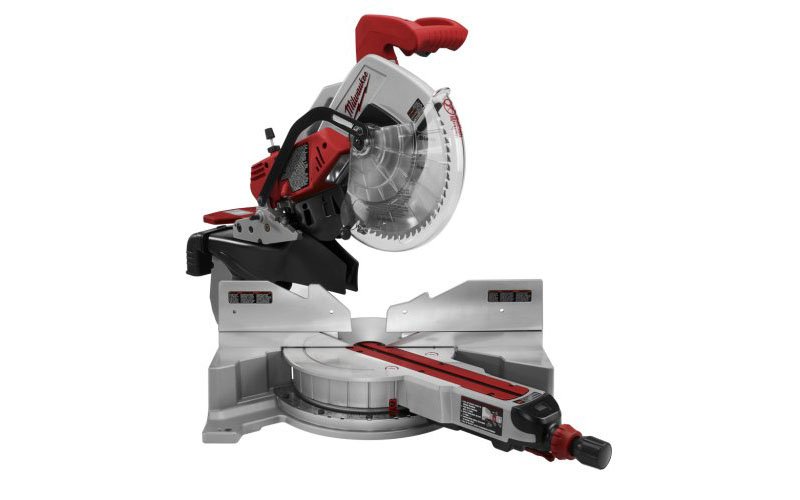 Milwaukee 6955-20 has superior precision along the length of the entire slide, maintains rpm under load, and also has a digital miter adjust that will lock into an angle up to one-tenth of a degree.
How Milwaukee 6955-20 is Different from other Miter Saws
Experienced contractors who need the best of the best don't have a lot of models to choose from. There are plenty of mid-range models, but there aren't too many that have really outstanding features that set them apart from the others, or top-notch performance above and beyond what the best mid-range model offers.
This 12-Inch Sliding Dual Bevel Miter Saw is an exception to that, however. This saw not only has superior precision along the length of the entire slide and maintains rpm under load, but it also has a digital miter adjust that will lock into an angle up to one-tenth of a degree over and over again.
6955-20 Special Features
This miter saw has so many enhancements that it's hard to keep track of them all. Every aspect of this model has been designed to be better than standard, and you'll appreciate the end result.
15-amp motor provides consistent power throughout the cut
Full range of miter and bevel positions with the precision of a digital miter adjust
Effective dust collection
Integrated work lights
Depth adjustment for dados
6955-20 Design Analysis
Powerful Motor
Milwaukee has a 15-amp motor in 6955-20, which is standard for a 12-inch miter saw. It runs at 3,250 rpm, which is also pretty normal for this size.
However, it has one extra feature which sets it apart: the saw maintains rpm under load. So when you start cutting, the blade keeps going at the same speed without bogging down. The result is a sharp cut with a smooth face and no tear-out, which is absolutely essential for trim work.
Maintaining blade speed under load is also helpful when doing a sliding cut. With a steady blade speed, your saw is going to slide smoothly with less chance for deflection to either side.
Digital miter and easily accessible bevel adjustments
One of the features that really make the 6955-20 stand out from the crowd is the ease and precision with which both miters and bevels can be set. It might even be easier than the up-front total access of the Bosch 5312. There are positive stops at 0, 15, 22.5, 31.6 (crown), and 45 degrees left and right, plus 55 degrees left and 60 right. In addition to the stops, the miter swivel arm has a digital readout that reports the angle precisely to the tenth of the degree. So if it turns out that every wall in the house that you're remodeling is tilted northeast at 0.5 degrees, this saw gives you precise control and lets you reproduce the same odd-angled cuts again and again throughout the project.
The bevel adjustment, while not digital (which is a little disappointing), is easy to reach from the front of the saw. The locking lever has three positions – all the way up for free angle selection, halfway up for stop selection, and down to lock. Bevel adjustments can be made to 48 degrees on the left or the right.
Note: In the video, he talks about not being able to slide the right-hand guide, and that's why he removed it. The solution to this is to grind off the tab that is preventing the guide from sliding – too easy!
Good Dust Collection
6955-20 can't be considered a basic saw on any level. There are plenty of features that would put this saw in a class of its own even without the stellar performance. The dust collection on this model is a novel design that works on both sides of the blade. Milwaukee claims it catches 75% of the dust; customers report anywhere between 50% and 90% (but most are closer to 50%). Still, a dust collection unit that collects any dust on a miter saw is a pleasure.
More User-Friendly Features by Milwaukee
There are integrated work lights on the saw as well, one on each side of the blade, that can be turned on or off. Lots of users prefer these lights rather than lasers because lasers can track as you pull the saw down, cover your pencil marks, and be difficult to adjust. This model also has an electronic soft start and takes two seconds to reach full speed. This allows you to get closer to your material and eyeball your marks better before starting your cut without damaging your stock.
Another really handy feature on this saw is the ability to use it for dados. There's an adjustable screw that controls cutting depth so you can use your saw for dados, grooves, and rabbets. Finally, the side handles have rubber grips for carrying (although at 65 pounds, hauling it back and forth still isn't going to be a cakewalk).
Where to Buy at the Best Price
The Milwaukee 6955-20 is a top-of-the-line saw, and prices vary wildly on this model, but Amazon carries it for one of the lowest prices. They also have free shipping, and since it's an Amazon direct product and not a third party, you'll have great customer service should you need it.
Customers Reviews
The Milwaukee 6955-20 is a pricey power tool, and only those contractors who need the very best usually go for it. However, once they take the plunge, they love this saw. It's consistently rated as 4.5 and 5 out of 5 stars on online retail sites, and customers have wonderful things to say about it:
"It is easy to setup for compound angle cuts and delivers clean cuts on hardwood trim, plywood, and even softwood board lumber. It is fairly simple to clean and adjust."
"Functions great! Very accurate, and very powerful. The lights are a big help in low light conditions. Adjustments are easy to make."
"I did a lot of research and I am glad I got this saw. The digital angle meter is very nice."
"Out of the well-packed box, it is very impressive: solid, well-built, light but sturdy. Nothing wobbles or creaks, everything is lined up to a gnat's you-know-what."
"The digital gauge and the lights are wonderful and very useful. Not gimmicky in the slightest."
"I didn't think I would like the digital angle finder, but I love that feature too. Saw is accurate, the stops are accurate, the fence is easy to remove for sharp angles."
However, no power tool is perfect. There are two complaints that pop up a lot for this saw. One is that it doesn't come with a clamp. It does have a hole drilled for one, though, so if you already have one on hand, try it out. Two is that the right fence doesn't slide. You can remove the upper part of the fence entirely, but then you hardly have anything to clamp your work on. It's just a little bump in the road, however, and only if you're making deep right bevel cuts.
[RICH_REVIEWS_SNIPPET category="page"]
[RICH_REVIEWS_SHOW category="page"]
Write your Review
[RICH_REVIEWS_FORM]